Precision, durability, and speed make these smart sensors a fundamental tool in implementing digitalization
A light beam reveals the protagonists in the dark. Or presents them in the best light, figuratively speaking. What works on the stages of this world offers something of a blueprint for the many product families of laser sensors at SICK. Different laser sensors safely and reliably detect and record either objects or their surroundings, depending on the application – even independent of ambient light and other challenges.
The competing systems for reliable object detection are LED and laser-based solutions. Laser sensors have a clear advantage, however. Compared to LED sensors, they offer significantly longer sensing ranges, higher precision, and a sharply defined diameter of the light cone. Consequently, the light spot always has a sharp contour and is easily recognizable within the visible spectrum range, and the light spot remains small relative to the working distance. This enables laser sensors to safely detect even the smallest objects, for example, needles and threads. A further advantage in certain applications is that the laser sensors can detect objects through holes or narrow openings.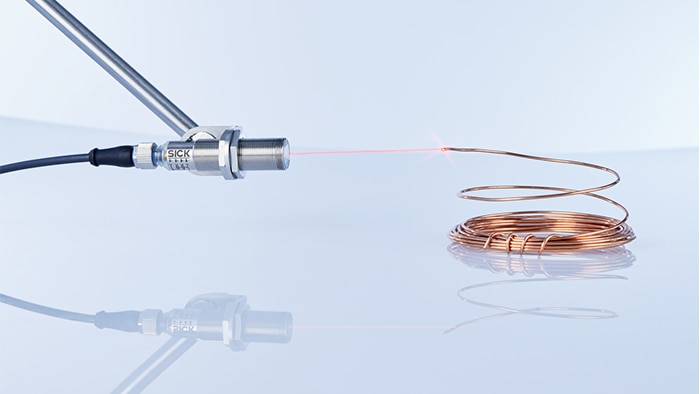 Precision: the source of good performance
A sensor should not squint. That might sound strange, but we refer to a so-called squint angle when we install the optoelectronic module and adjust the laser diode. The diode is aligned by a fully automatic gripper. Using an alignment target until the squint angle is almost eliminated, the diode is then glued to the module.
This automatic manufacturing process works consistently from sensor to sensor, thanks to micrometer-precise monitoring by a camera system. This ensures that all laser sensors of the same type leave the factory, in principle, identically adjusted – a repeatability that makes initial mounting, supplementing or replacing the sensor significantly easier.
Not all lasers are the same
While the housings often look identical, laser sensors contain two different technologies depending on the application requirements. Neither is better or worse than the other, but simply more suitable for particular applications. Therefore, there are laser sensors based on triangulation, and laser sensors based on time-of-flight (ToF).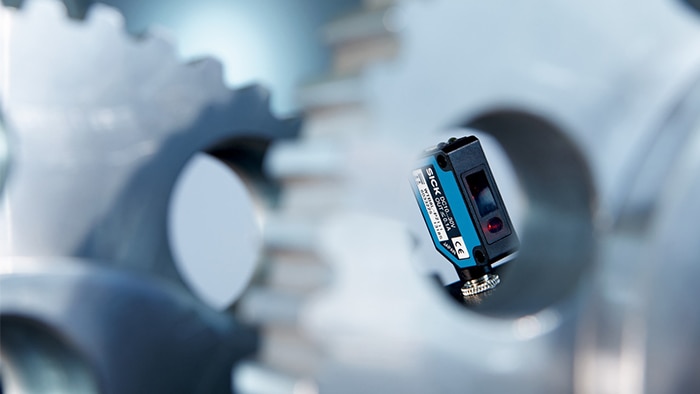 Triangulation – thinking laterally
Laser photoelectric proximity sensors with background suppression measure distances by calculating angles. This is called triangulation. The emitted light is reflected by an object and hits the receiver element at a certain angle depending on the distance. Based on the position of the light spot on the receiver element, it is possible to determine the distance of the object. This measurement principle has two advantages.
First, it allows you to configure a precise background suppression that can be used, for example, to reliably detect flat objects on a conveyor belt. Second, it enables even very close objects to be detected, as the triangulation principle has virtually no geometrical blind areas. This principle of operation has certain limits, however. Very dark, weakly reflecting surfaces make it difficult to operate and detect.
Time of flight – it doesn't get any faster than this
In the case of a time-of-flight photoelectric proximity sensor, however, the object color is almost irrelevant. This sensor does not measure optical angles, but rather the time-of-flight of laser light. The sensor emits laser pulses and measures the time until the reflected light arrives at its receiver element. This measurement principle is therefore almost independent of the optical reflectance behavior of an object. At the same time, it is also extremely impervious to optical interference by reflections, ambient light or artificial light. ToF laser sensors also deliver stable detection results even at large detection angles. Furthermore, ToF laser photoelectric proximity sensors are so smart that they can deliver a continuous distance signal, and they can also make it available via an analog output or IO-Link. Laser sensors are designed to be smart sensors. They can therefore be used to implement Industry 4.0 applications, such as condition monitoring, to make automation networks more efficient and future proof.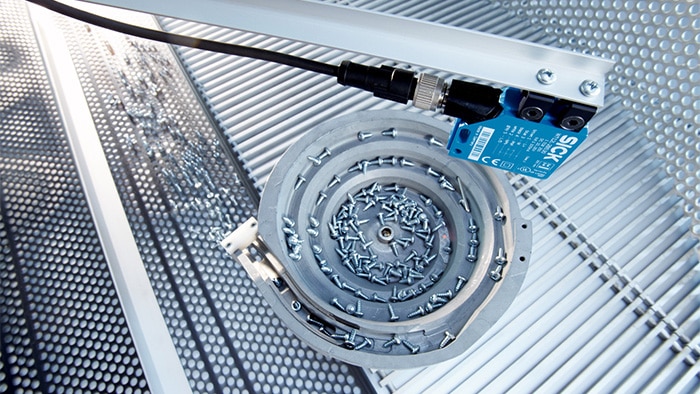 Range of applications: Who gets the spotlight?
The different measurement principles of laser sensors allows for a number of possible applications. This ranges from laser scanners that detect ultra-small nearby objects right through to photoelectric sensors with a detection range of up to 60 meters – a huge spectrum. And this applies, of course, to all industries, whether it be packaging machine construction, the automotive and supply industry, the electronics or solar industry – laser photoelectric sensors provide reliable and economical solutions to automation tasks in many areas. This includes high-precision and reproducible applications for position, presence, overrun and height checking. And new and modified versions are continuously being released.
The photoelectric sensors in the G6L product family, for example, will impress you across the board with both their standard mounting configuration of 1-inch spaced holes along with their functional characteristics. And the MultiTask photoelectric sensors in the PowerProx range have now been extended by the high performance WTT4SL in a miniature housing for maximum flexibility in machine design. Thanks to the high energy density and convergence of the laser beam, the various laser sensors can master even the most demanding ambient conditions where LED sensors often reach their limits. So, we can clearly say: laser sensors are spot on the winner.
Want to learn more about laser sensors? Contact a SICK representative today!