SICK and MULTIVAC have successful collaboration with IO-Link
Packaging machines are used in a wide variety of industries. To ensure production runs smoothly, they need to be able to detect and process the packaging fed to them reliably and correctly. The company MULTIVAC has equipped a new version of its TX packaging machine with a photoelectric sensor from SICK which, thanks to IO-Link, can be flexibly configured via control commands.
Precision with Photoelectric Sensors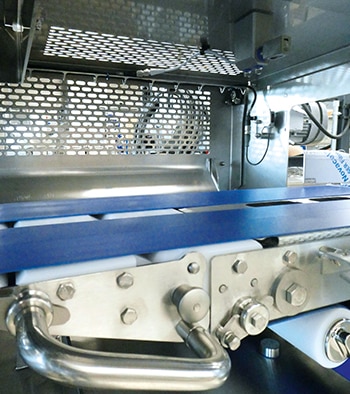 The packaging machine places the upper web on the incoming trays and seals them. The photoelectric sensor for tray detection ensures the trays are correctly positioned for gripping operation and are correctly transported into the sealing die. After an atmosphere exchange occurs, the upper web is sealed onto the tray. In the food industry, achieving the highest possible precision is essential for optical reasons, as customers will keenly notice even slight displacements of the print.
Conventional photoelectric sensors cannot be automatically configured for different products. They have only one standard configuration that can be applied manually via a teach-in button, or via an external teach-in input on the sensor. When changing over to another product, the new parameters need to be taught in first by inconvenient means.
IO-Link with photoelectric sensors
In conjunction with SICK, MULTIVAC developed a new version of its TX packaging machine that can be configured for a wide variety of packaging with little effort and is able to reliability detect different trays regardless of their transparency or color. This is made possible by the WLG4SC photoelectric sensor whose switching threshold can be tailored to the specific product directly via a control command, thanks to IO-Link.

While detecting black, colored, milky, or transparent trays, other parameters, and settings such as "Quality of teach" and "Quality of run" can be implemented through the bidirectional communication via IO-Link. The full access to lots of data from the photoelectric sensor and the qualitative detection allow seamless condition monitoring. This enables, for example, the customer to detect any deterioration in detection early and eliminate any errors that arise before they lead to a production outage. The photoelectric sensor is always operated with the maximum possible reliability, false detections are minimized, and the machine availability maximized.
Successful partnership with SICK and MULTIVAC
This project is a prime example of a successful collaboration between technology partners MULTIVAC and SICK. MULTIVAC approached SICK with specific requirements not only for product detection, but also in relation to hygiene, which is so important in food production. SICK proposed a solution based on these requirements.
This was first tested in the R&D department at MULTIVAC and then on test machines in the field at the customer's site. After this, the solution was immediately able to be adopted in series production. Thanks to this targeted, uncomplicated collaboration and the constructive communication as equals, both partners were able to implement all the project objectives on time.
"By using IO-Link sensors we have significantly increased our machine availability. We can respond flexibly and quickly to changing packaging, so the sensors are always optimally configured for the objects," reported Michael Huber, Development Engineer Tray & Pouch Packaging at MULTIVAC. "The IO-Link technology impressed us, and we intend to use the IO-Link products from SICK more often in future as well."
This means that IO-Link will play a decisive role in the ever more intelligent use of sensor functions in other development projects as well. It is likely that more and more machines and components with IO-Link capable sensors will be found at MULTIVAC in future.
About MULTIVAC
Packaged expertise, innovative cutting-edge technology and strong brands under one roof: MULTIVAC offers complete solutions for the packaging and processing of food, medical and pharmaceutical products, as well as industrial items – and as the technology leader, it continues to set new benchmarks in the market.
MULTIVAC is today a global solutions supplier, which supports small and medium-sized companies, as well as large corporate businesses, in designing their production processes to be efficient and resource-saving. Around 7,000 MULTIVAC staff in more than 80 subsidiaries worldwide ensure that the company remains close to its customers, as well as providing the maximum customer satisfaction – from the first project concept right through to after-sales service.
Want to learn more about photoelectric sensors? Contact a SICK representative today!